Antibody Discovery
Due to the complexities with immunization, isolation of B-cells from blood, plating of viable single-cells, and sequencing of antibody antigen-binding regions, therapeutic antibody discovery is not without its challenges. The antibody-drug discovery process differs from the traditional drug discovery of small molecules as it requires the development of hybridomas and the engineering of antibodies to recognize a specific target protein.
The production of recombinant antibodies in cancer treatment as well as the development of neutralizing antibodies for infectious diseases, has allowed antibody discovery platforms to interrogate the immune repertoire and develop novel antibody libraries using flow cytometry analysis and cell sorting. The WOLF® cell sorter provides a simple cell sorting solution that gently sorts high antibody-producing clones and dispenses single-cells for optimal clone outgrowth.
WOLF Benefits
Antibody Discovery from Single Bovine B-Cells
Bovine immunoglobulins have great potential for development as clinical treatments and research tools targeting a broad variety of antigens. Bovine antibody structures slightly differ from their human equivalent and provide opportunities to identify antibodies with unique specificities and obtain the antibody sequence of their light chains. When compared with the BD FACSAria, sorting B cells with the WOLF cell sorter resulted in twice as many single-cells with detectable OneStep RT-PCR product, and 41% more single-cells were sequenced for both heavy and light chains. The WOLF cell sorter optimizes the selection process of antibody candidates and speeds up the recombinant antibody development all the way to antibody production.
Learn More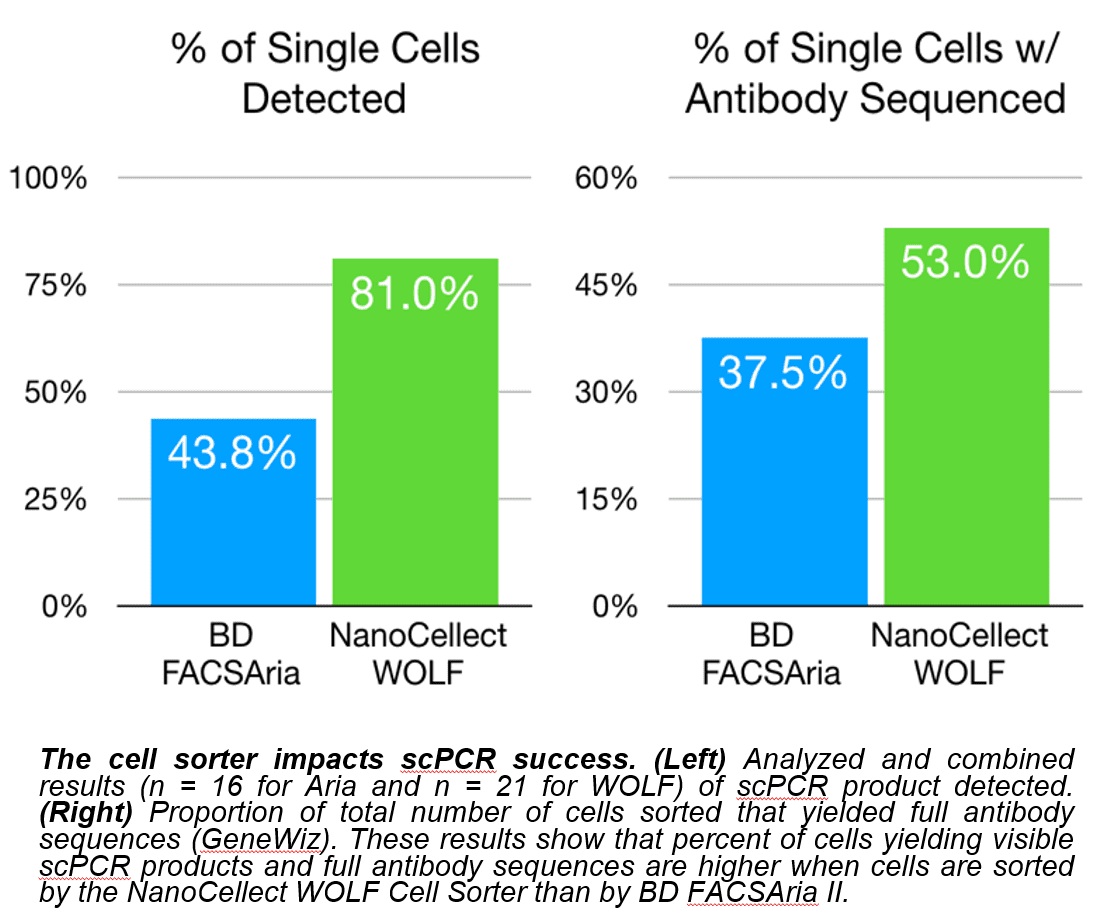 Isolate Antibody-Secreting CHO Cells
In recent years, scientists have used CHO (Chinese hamster ovary) cells to develop high titer antibody-producing cell lines. Traditionally, scientists have used limiting dilution to develop clones, which is inefficient, time-consuming and wastes tissue culture materials due to empty wells. The utilization of the WOLF cell sorter in combination with the N1 single-cell dispenser helps identify cells with high levels of antibodies at the cell surface and deposit them into a 96- or 384-well plate with 90% efficiency. The WOLF has been successfully used by Contract Development and Manufacturing Organizations to develop CHO cell lines with high antibody titers and then rapidly move high producing clones into functional antibody characterization.
Recombinant protein production in CHO Cells
To produce therapeutic and recombinant proteins, the most widely used mammalian expression system in industrial production is CHO (Chinese hamster ovary) cells with DHFR-mediated gene amplification. Following standard molecular biology plasmid construction methods and stable transfection of cells, the expression of a recombinant protein becomes stable. The next step requires sorting single-cells to establish recombinant protein producing clones. With traditional cytometers, the number of CHO cell colonies is low due to cell death with high-pressure cell sorting systems. With low-pressure cell sorting, the WOLF improves single-cell deposition efficiency results by 95% and increases clonal outgrowth.
Learn More
The WOLF is a technology that enables small companies to do things they could not do before." "The microfluidics capability is something that I have been excited about. The nature of how the WOLF works is being extremely attractive to us. Some of the experiments we'd like to do in the future could not be done on any other device.
Justin Chartron, Ph.D.
Protabit LLC
Neurons are extremely delicate so the selection step should be the least disturbing of all if we want to have reliable results. When we tried the WOLF, we were extremely surprised that our cells were very healthy and viability was above 90%, sometimes above 95% which is very impressive.
Dorota Skowronska-Krawczyk, M.Sc.,Ph.D.
University of California Irvine
A great machine that has helped us take our cell-engineering pipeline to the next level!
Ronan O'Connell
Rice University
The NanoCellect team and technical specialist have been awesome. After two test runs with very involved training/assistance, we have been very pleased with the results. The equipment is intuitive and the sorts have been very clean.
B. Davenport, Ph.D.
University of Colorado
NanoCellect Customer Support team has been fantastic in helping us get up and running. The instrument is a helpful tool in our cell line development workflow.
Douglas Austen
Takeda Pharmaceuticals
The NanoCellect customer support team is really helpful, knowledgeable and efficient; the WOLF is a great tool in our stem cell research workflow
Helen Miranda, Ph.D.
Case Western Reserve University